Bearing Sensors
Avoid costly plant shut downs with our express bearing sensor manufacturing service. We stock an inventory of components to manufacture bearing sensors for high and moderate temperature services. Top hat, small profile bearing cap, and double oil seal configurations are routinely assembled with Nickel 120 ohm, Pt 100 ohm and thermocouples.
With over 45 years experience and a manufacturing facility on the West Coast, the days of waiting a week or two for delivery of critically needed embedded bearing sensors is Over! We currently stock many common bearing sensor configurations and have the ability to stock customer specific bearing sensors.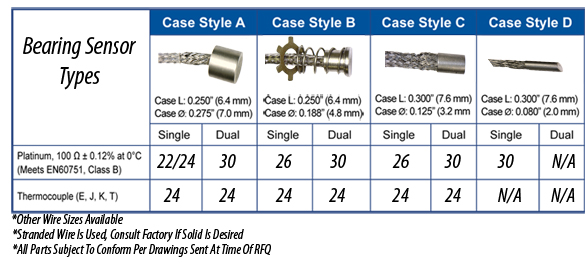 Many orders place by 12:00pst can ship the same day UPS RED for next day delivery.

Here at Thermometrics we realize time is money. If your used to having to wait on a bearing sensor before you ship out your bearings we are your solution. We have the best lead times on bearing sensors guarenteed! If you are currently waiting a week, two weeks or even a month for your bearing sensors to arrive from your current bearing sensor supplier you will want to try our services. If you have exsisting designs and part numbers we have cross reference systems set up to make your purchasing easier.